Homemade Espresso Temperature Probe
So I wanted to check the offset of my PID on my machine and have been thinking about the best way to achieve this without spending hundreds of pounds on a Scase2.
Turns out that this is very achievable for next to no cash and even less skill 🙂
One thermocouple thing (eBay Link) or similar.
One standard basket (similar to whatever you use).
One Bottomless Portafilter which you've probably already got.
I'll post a couple of more detailed pics tomorrow but essentially you drill a small hole in the middle of the basket. Poke the thermocouple through and bend it at an angle so that it's at about 45 deg to vertical. Put the basket in the portafilter and plug the thermocouple in. That's it! Now just dose up as usual and brew a shot.
The reason that I decided to make it like this is because I believe that this is a better reflection of the puck temperature and not just the water coming from the group which would be the case when using a blanking plate and 9bar valve like the scase. Whether or not this is technically 'better' I don't know but it's certainly improved shots since making the change.
Here are a couple of pics I took whilst testing.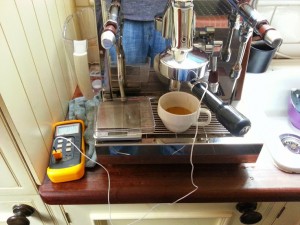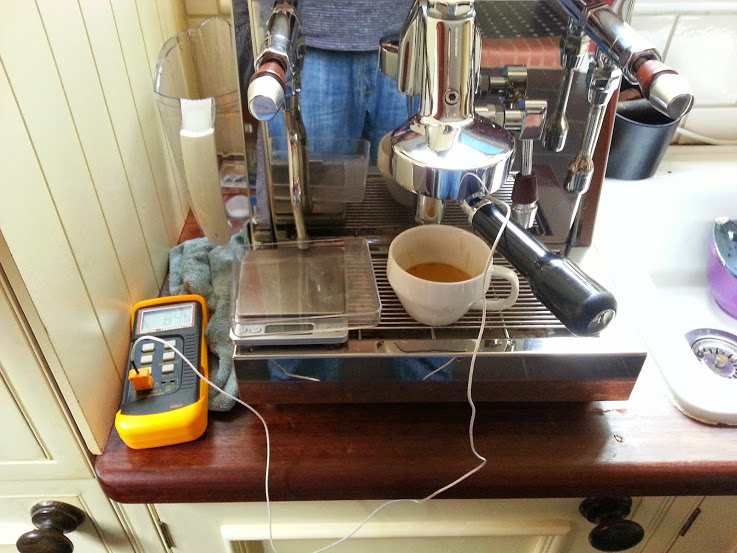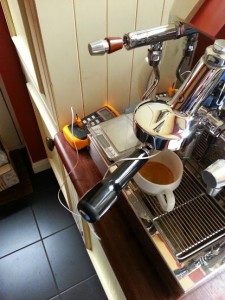 The temperature gauge was £20 all in, you can get it cheaper from overseas but I opted for a UK seller. It arrived next day! I already had the spare basket and the naked filter so all in all it was a bargain.
Hopefully someone else might find this useful.