Making water for coffee – SodaStream Method (Best recipe so far!)
Update
It appears that there were some issues downloading the old spreadsheet do I'm attaching it here as a direct download in xlsx format.
In my previous guides I looked at making water that was good for making coffee as I live in a soft water area and with bottled water not being ideal. Although a big improvement I was getting inconsistent results and sometimes things were unbalanced for no obvious reason. So after an interesting conversation with Gary Dyke about the possibility of collecting rain water and using it for coffee, whilst sat stationary on the M6, I got to thinking about natural water sources over bottled water sources and started reading up.
I found some interesting articles on ground water and how hardness forms in nature. Most hardness comes from dissolved Calcium Carbonate in the ground water as opposed to Calcium/Magnesium Sulphate or Chloride, these can still be present but in a lot of cases in very low concentrations. I started to wonder if there was a difference between the types of hardness that these chemical created. After some more research, mainly on beer brewing forums, I found that the answer seemed to be yes.
You have permanent and temporary hardness.
Permanent hardness is Ca/Mg ions that are associated with Chlorides and Sulphates, these generally don't come out of solution when you boil water.
Temporary hardness refers to Ca/Mg ions that are directly associated with carbonates and bicarbonate, these generally do come out of solution when you boil and result in scale.
There is a lot more info on water in the beer brewing circles and they differentiate between these hardness types when talking about beer brewing water. Bringing this back to coffee, generally speaking, the best coffees that I have tasted have been made from water with naturally occurring carbonate hardness (temporary hardness) and generally with twice the level of hardness to alkalinity, this is the case with water from the Has Bean roastery which is held in high regards and produces very balanced coffee with great body. This again comes back to the same ratios that we looked to achieve in the previous articles however now we are differentiating between permanent and temporary hardness which we weren't back then.
I had tried previously to dissolve Calcium Carbonate in water however it is almost insoluble (about 20mg/L at room temp) so I needed another way to try and get this off the ground. During my research I had learned that naturally occurring carbonate hardness comes from water underground. Higher pressures at the lower depths result in more Carbon Dioxide (CO2) dissolving into the water, this then lowers the pH due to the formation of carbonic acid. Since calcium carbonate is so abundant in the ground and also soluble in weak acids you now end up with water that can dissolve a reasonable amount creating carbonate hardness.
With this all in mind I mulled over how I might emulate this at home so I set to work on a test.
So what's the answer?
In the end it was quite simple, I came up with the idea of using a SodaStream to take RO water, inject it with CO2 under pressure to create carbonic acid, I would then add calcium carbonate which would now dissolve and I would then dilute this back down to the desired hardness level.
The good news is that it worked and after a bit of messing I was easily creating water that resulted in the most fantastically balanced coffee with great mouthfeel clarity and taste. For me the new water was in a league well above the previous method but I wanted to make sure so I took some round to Gary for taste testing. Gary confirmed that the water was as good as I had thought so I started to look and refine the process and tweak it to be as perfect as possible.
Between Gary and myself we ended up preferring hardness levels of around 110-120 mg/L. As these hardness levels result in a TDS of around 70-80 mg/L and the ideal is 100-150 mg/L I decided look at an addition to increase this and also to add some Sodium Chloride into the equation at around the 10 mg/L recommended value as given by the SCAA. I chose to make the addition with natural Sea Salt which contains about 70% NaCl but also potassium and other minerals that occur in ground water. This was the icing on the cake. The water ends up at about 120 mg/L TDS, 120 mg/L Carbonate Hardness and 60 mg/L alkalinity (2:1 ratio naturally occurs when Calcium Carbonate dissolves in the acidic water).
The final step in the process was to filter the water to remove and particular matter. I decided to go with a 5L Britta filter and BWT Mg+ filter cartridges. These cartridges filter the water and also exchange some of calcium ions with magnesium which, according to Maxwell from Colonna and Smalls, should increase sweetness again and also reduce scaling slightly, win win!
So why bother I hear you ask? Well, having water of this spec means that you get extremely consistent and tasty brews. The resulting body and mouthfeel is optimised. The acidity and bass notes are balanced and increased sweetness is there as well (The NaCl seems to increase the perception of sweetness). The water is pretty stable to it won't attack your espresso machine.
Are there any downsides? Yup, it's a bit of a faff and at my preferred hardness levels you are going to get a small amount of scale in your espresso machine, however I believe that it's worth it if you are using either bottled water or you live in a very soft water area. If you have naturally good water then I would recommend that you simply filter that as it will be lot easier and should result in a similar profile.
So what equipment do you need?
Pure Calcium Carbonate Powder (can be purchased from ebay) you use about 1-2g per 10L of brew water.
Posh Sea Salt (26g dissolved in 1L RO water)
A Soda Stream (I got mine from Argos for about £30)
RO/Distilled water – can buy from most aquatics centres – you will need a lot of this as it makes up the bulk of the brew water, 10p per L
TDS meter – from ebay/amazon for about £14
My spreadsheet to perform a couple of calculations during the process (Can be viewed online here or downloaded directly here)
A graduated 10ml pipette
A Britta filter and some BWT Mg+ filter cartridges
Finally, a pack of Sharpies or similar for marking up the bottles
What do I do with all this stuff?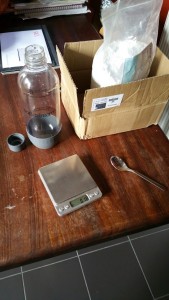 Fill your Soda Stream bottle with RO water to the line. Lock it into the SS and blast it until safety valve pops (as per SS instructions)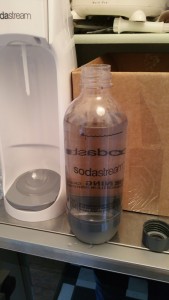 Weigh 1.5g of Calcium Carbonate and add it to the fizzy RO water. Put lid on bottle quickly. Shake a few times.
Leave the resulting solution overnight in the sealed bottle so that the solids fall to the bottom of the bottle (this is important or you will end up with loads of sediment in your water which you don't want and you may also increase the hardness after you have measured it)
Open the bottle and tip a small amount of water out of the bottle into a little cup.
Measure the TDS of the water, after leaving it to sit for a few mins to let the bubbles dissipate, I get the best reading from taking the TDS meter in and out of the water a few times. The reading will change but I go with the figure that comes up most often.
Once you have this TDS reading you then stick that into my spreadsheet and enter your desired brew water hardness. The spreadsheet will tell you how much of this Calcium water you need to add to how much RO water to make the desired hardness. It's usually about 300-500ml Calcium water to make a 5L batch of brew water.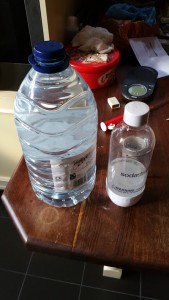 Once mixed well you then add 1ml of Sea Salt solution for every litre of brew water and stir again.
I then take this and filter it through a BWT Mg+ cartridge in a Britta 5L filter.
That's it!