New Coffee Burrs for the EK43?!
So I've owned my EK43 for just under a year now and have had a love hate relationship with it so far. Luckily the love has drastically outweighed the hate!
The EK43 coffee excels at brewed and is capable of producing great espresso to, however with some beans I would run into problems grinding fine enough to get a decent flow rate from my set-up. Like any good workman, I blamed my tools! I starting nutating and trying various techniques to slow the shot time to within acceptable limits but with certain beans this was just impossible.
So about 6 months ago a good friend received their EK43 and noticed some strange goings on. At any given dial setting the new version of the EK seemed to grind finer than mine, it seemed quieter and there was slightly less static. We were confused so we emailed Mahlkonig UK who told us that the new grinder must have Turkish burrs. Having owned a pair of Turkish burrs I didn't think that this was the case as they didn't grind as fine as the Turks.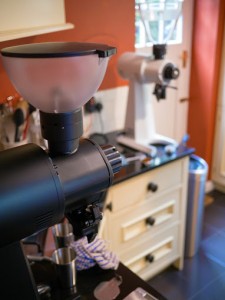 There was only one thing for it and I decided to take the new grinder to bits. When I opened it up I was greeted with a bit of a surprise. The burrs didn't look like the old coffee burrs and didn't look quite like the Turkish burrs ether, they were a hybrid that seemed to sit somewhere in between.
Left picture is the old burr, right picture is the new one!
I excitedly emailed Mahlkonig UK again and was told that there were no new coffee burrs!
Roll forward a couple of months and I caught a fantastic presentation from a guy who worked at Mahlkonig, the presentation talked about the future of grinders for coffee making and was really interesting stuff. Surely if anyone would know then this was the man to ask! I managed to find the presenter's details and emailed him right away. A few days later I got the response I was looking for. He confirmed that whilst updating the manufacturing process for the burrs  that they also took the opportunity to make them grind slightly finer as many customers had requested this feature. Great news for new owners, not so good for me.
I decided that I would like this feature so I decided to sell my Turks and pick up a set of the coffee burrs. I spoke again to Mahlkonig UK and they had simply not been made aware of the change and order a set.
I fitted them as soon as they arrived and they delivered everything that I had hoped. Out of the box the quality just looked better than my original burrs, presumably due to the new processes in place. In the cup (where it counts!) they delivered in spades. They ground finer and the resulting espresso shot was noticeably more controlled (anyone who has played with the old coffee burrs will know what I mean) and could easily be tweaked to produce superb espresso no matter what the bean.
I'm now totally happy with my EK43 and the hate part of our relationship is now a thing of the past!